Last Friday (the 24th) I had the privilege of hiking up to the Periodic Spring, located up Swift Creek behind Afton, WY. While being at the spring I was able to take some beautiful pictures, which I will post shortly on my photography page.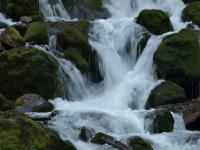 If you wish to view my photos, check them out on my photos page. The thing I wanted to talk about here is the technology which was used in taking these shots. These photos were shot with my new Olympus E-510. It is a great camera which takes absolutely beautiful photos. What is interesting about these photos, however, is that I had no tripod with me while shooting. What is even more amazing is that the photos were shot from a standing position without the camera resting on anything.
What is so amazing abut this? The photos were shot with a very slow shutter speed at 1/20th of a second. Normally a photo shot at anything below 1/60 would appear slightly blurry, but the advanced E-510 has a built in image stabilizer. Using the image stabilizer I was able to set a slow shutter speed (which created the flowing water effect) and achieve the desired effect that I was going for with the water. The E-510 has many great features, but this one single feature saved my day and created a beautiful shooting experience.